As AFT Massachusetts members, we know that we have more power when we join together through our union. That collective power is how we win better salaries, benefits, and working conditions, but it's also reflected in the collective purchasing power of AFT's 1,700,000 members and AFT Massachusetts' 23,000 members.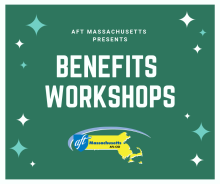 This spring, AFT Massachusetts will host a series of regional benefits workshops to showcase the products and services available to AFT members through our member benefits program.
At each two-hour workshop, presenters will explain benefits you are eligible for, with topics including Auto and Home Insurance; Supplemental Insurance; Home Financing; Long Term Care; Auto Glass Replacement; and Retirement Planning. The workshops will take place in local restaurants around the state, and light snacks will be provided as well.
Whether you're looking to purchase insurance, buy or refinance a home, plan for retirement, or just see what benefits are available to you as an AFT member, you can find experienced and dedicated professionals who will work with you every step of the way to fulfill your goals.
Click here to register for one of the workshops:
March 25 - Red's Tavern located at 131 Newbury Street (Rt. 1 North) in Peabody
March 26 - Boston Teachers Union Members Lounge located at 180 Mt. Vernon Street in Dorchester
March 27 - UTECH Catalyst Center located at 17 Warren Street 3rd floor in Lowell
May 13 - Mikey B's located at 989 Victoria Street in New Bedford
May 14 - Restaurant 45 Bar & Grill located at 45 Milford Street in Medway
May 15 – Tony's Pizza and Restaurant located at 108 Boston Road in Springfield
All events take place from 6:00 p.m. to 8:00 p.m.
Click here for additional information on our benefits.