Over 18 years ago, Revere's School District decided to cut paraprofessional hours rather than offer them healthcare in retaliation to the passage of the ACA and the Massachusetts Health Care law.  This not only short-changed a workforce that is predominantly low-income women, but it also undercut services provided to our most vulnerable students.  Paraprofessionals are the education aides to pre-kindergarten, students who have disabilities, support for those that need help with areas of academics, and support for those that need English language help. This cut minimized the amount of time given to students by each para and created massive turnover and difficulty in hiring to fill the positions.  The decision to do this was shortsighted and continues to hurt kids.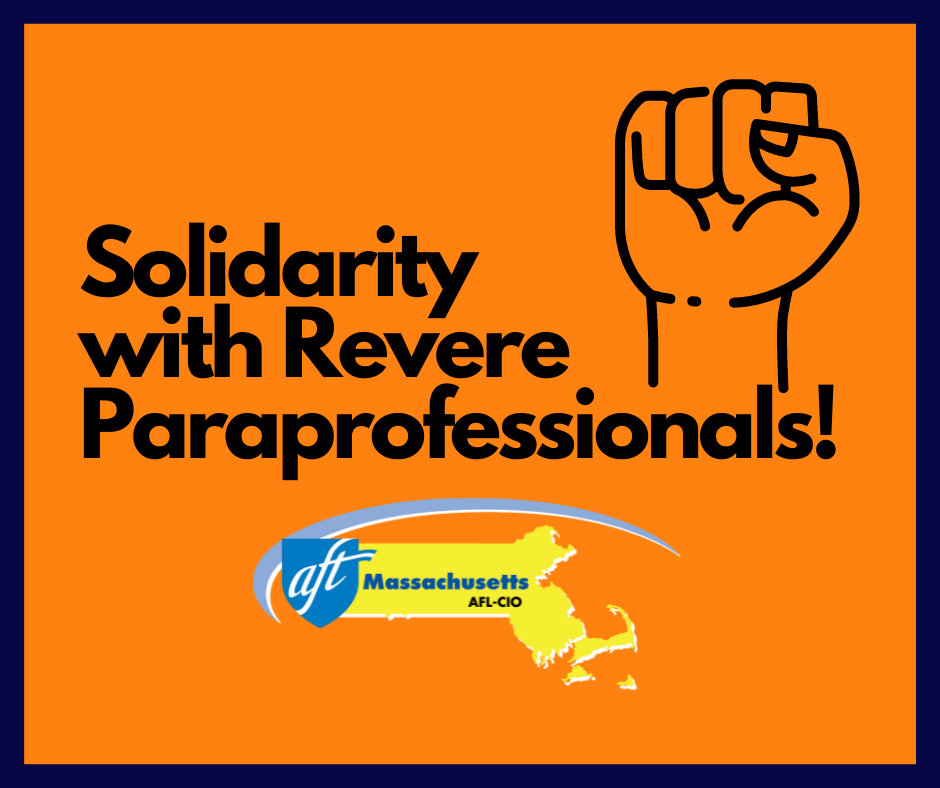 Click here send a letter in support of Revere paraprofessionals to the Revere School Committee.
Currently we, the Revere Federation of Paraprofessionals, are bargaining with management over a new union contract for the paraprofessionals.  We have asked that our members be treated like paraprofessionals are in other districts across the state and made full time.  We know that now is the time to do this because of the money coming into the district from both the federal government and the Commonwealth.  A fund called the Student Opportunity Act was created by the legislature to fix issues like this.  The overall contribution to Revere from the state is estimated to go up over $70 million in the next 6 years. Our proposal would cost 10% of the first year of the Student Opportunity Act.  
Management has been dismissive and demeaning, rolling their eyes, making threats to reduce jobs, demanding that para's do work outside of the classroom, and denying that there is indeed funding.  Management has demanded that Paras become bus monitors too. This additional work would take our members away from the students they care about and weaken supports to these vulnerable students.  These threats and demands are not bargaining in good faith.  We have made movement at the table, they have not.
We are opposed to weakening student supports and want to make paraprofessional jobs better so we can give our students the best support possible.  Management's tactics are bad for the community, our students, and a waste of taxpayer funds.
Click here send a letter in support of Revere paraprofessionals to the Revere School Committee.