The UMass Faculty Federation, Local 1895, American Federation of Teachers, AFL-CIO, celebrated its 50thAnniversary this week with a gathering at the Claire T. Carney Library Living Room at UMass Dartmouth.
"Faculty and staff at UMass Dartmouth have been able to accomplish so much because of 50 years of hard work and solidarity by generations of dedicated Federation members," said 
Dr. Catharine M. Curran, PhD, President of the UMass Dartmouth Faculty Federation
. "As we enter our sixth decade as a union, we are stronger as a faculty and as a campus because of all the committed and excellent individuals who fought to secure the rights and benefits we enjoy today."
The UMass Dartmouth Faculty Federation was first formed in 1968, when twenty-seven faculty members, most of whom had taught at either the New Bedford Institute of Technology or the Bradford Durfee College of Technology (Fall River), predecessors of the University of Massachusetts Dartmouth, petitioned for a charter from the American Federation of Teachers (AFT) as the Southeastern Massachusetts Technological Institute Faculty Federation Local 1895. The founding date for UMass Dartmouth's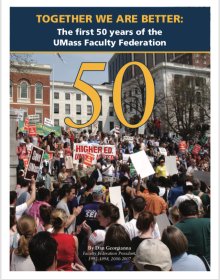 predecessor institutions was chosen as the Local number.
"For fifty years, the Faculty Federation has been a leader in standing up for faculty and their students at UMass Dartmouth," said Beth Kontos, President of the American Federation of Teachers Massachusetts. "AFT Massachusetts is proud to stand with the UMass Faculty Federation as they continue to work to create the University that the Dartmouth community – and all of Southeastern Massachusetts – deserves."
The local's first contract, negotiated in 1971, was one of the first collective bargaining agreements for universities in the United States. Since then, the Faculty Federation has successfully negotiated 13 Agreements with the school's Board of Trustees. In 1975, the Federation added professional staff through the Educational Services Unit, which is a separate bargaining unit with its own agreements. More recently, the Federation added part-time lecturers and research assistants and associates into the faculty bargaining unit. The Faculty Unit and the ESU have worked together seamlessly in the same executive board for decades. Both groups have accomplished the general goals of unions for their members: negotiating equitable pay and benefits, rights of fair process in grievances, respect on the job, and representation in work processes.