On February 24-28, educators, parents, students, and our communities will be celebrating Public Schools Week, a national celebration of the great things happening every day in public schools — and of these schools' potential for greater things.
"In Massachusetts, we're leading the country by reinvesting in our public schools because we know that great public education is the key to unlocking opportunity for all our students," said AFT Massachusetts President Beth Kontos. "At their best, public schools lift up our students and give them the tools they need to grow and thrive socially, academically, and emotionally."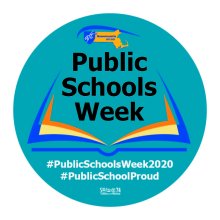 Public Schools Week is a designated week for teachers, paraprofessionals, specialists, administrators, teacher educators, parents, students, and community members to discuss the importance of public education and highlight the good news about public schools, which are attended by nine out of ten American students. It is being sponsored by a coalition of more than thirty 
organizations
, including the AFT. 
During last year's Public Schools Week, AFT President Randi Weingarten said "Public schools in America are foundational to our democracy, and to our economy. They are the only institution that promises to help all children—regardless of who they are or where they're from—realize their dreams and aspirations. And every day, educators across this country devote themselves to making our public schools safe, welcoming spaces where kids can learn and thrive."
"Public Schools Week is an opportunity to celebrate the amazing things happening in our local public schools and rededicate ourselves to our work to strengthen public education," said Kontos. "I hope educators across the state will join me in celebrating Public Schools Week in your school and community this year."
The website Public School Proud has a countdown calendar, a video and links to social media and other resources.  
Here's how you can get involved:
Watch a video explaining the importance of Public Schools Week and advocacy for local public schools (closed captioned version available here)
Take the Pledge for Public Schools and show your support for your local public school. A list of concerned supporters will be presented to members of Congress and state legislatures during Public Schools Week 2020.
Wear a sticker – AFT Massachusetts distributed #PublicSchoolProud stickers to our preK-12 locals, so check with your local union leader.
Start Sharing! Share your support for public education on social media using hashtags #PublicSchoolProud, #PSW20 and #PublicSchoolsWeek2020. A Social Media Toolkit has all the tips and tools to celebrate and show your pride in your public schools.