AFT Massachusetts is excited to welcome two dynamic new Vice Presidents to our statewide Executive Board! Earlier this month, the AFT Massachusetts Executive Board voted to support President Beth Kontos' recommendation to appoint Nicole Reminder and Mary Henry to fill vacancies on the board.
"I'm thrilled that these two great local union leaders will join the AFT Massachusetts Executive Board as we work to ensure that every student has a fully-funded school," said AFT Massachusetts President Beth Kontos. "Their work to empower and engage members will be critical as we push historic school funding legislation over the finish line and then make sure the new money is spent on services our students need in the classroom."
"I am excited to serve in this capacity and look forward to contributing to the work of the executive board," said Nicole Reminder, president of the North Attleboro Federation of Teachers. "I hope to be able to be a voice for smaller-sized, suburban locals. As a current classroom teacher, I can also bring the perspective of what it is like to be in today's classroom environment."
"My campaign slogan was Empowering Positive Change," said Mary Henry, president of the Peabody Federation of Teachers. "I want members to feel that they are empowered to be an active part of raising our collective union voices."
Learn more about the new Vice Presidents below:
Nicole Reminder
Nicole Reminder is president of the North Attleboro Federation of Teachers (NAFT).  Nicole is pictured to the right of NAFT activist Alison Robinson.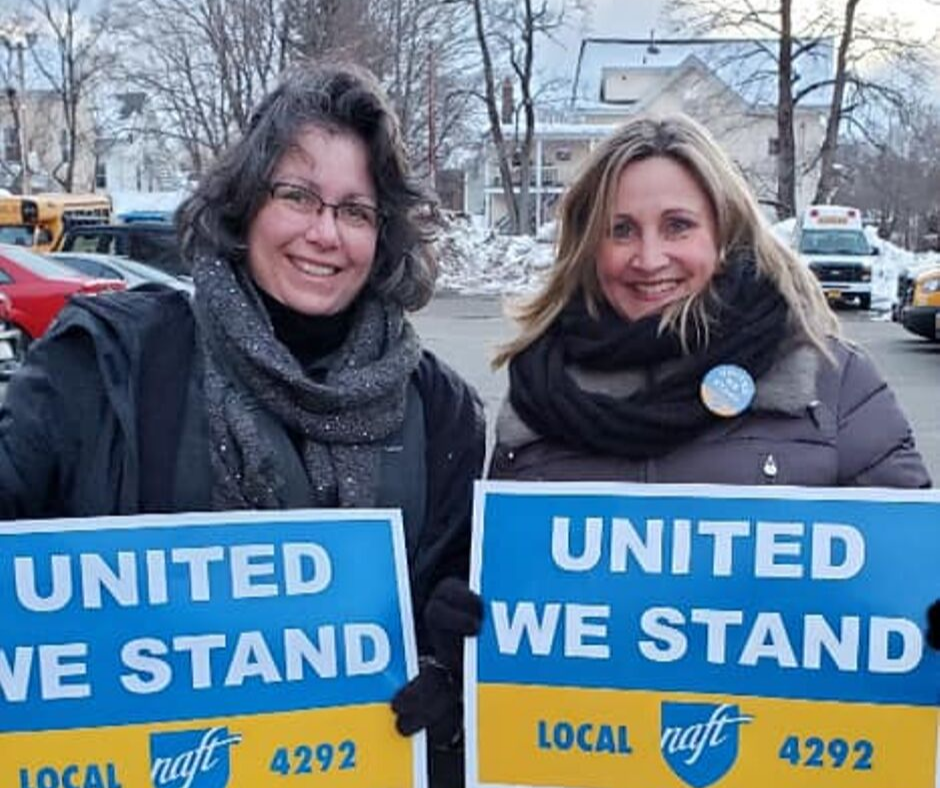 She began teaching in September 1994 as an elementary special education teacher in the North Attleboro Public Schools. She continued in that capacity until September 2018, when she was selected to the position of special education inclusion teacher at North Attleboro Middle School.
As NAFT President, Nicole has successfully negotiated contracts based on "bargaining for the greater good," established strong working relationships with management to collaborate and solve school related issues, and instituted 10-minute, building-based meetings to keep all members informed about all of the activities of the union.
Under her leadership, NAFT worked to elect a pro-public education majority on North Attleboro's newly formed Town Council after the community's change from a town meeting form of government, and supported a community coalition effort to successfully pass a North Attleboro Proposition 2 1/2 Override campaign through letter writing, door knocking, phone banking, member information sessions, leafleting and local newspaper advertisements.
Nicole graduated from Providence College with a dual degree in elementary and special education. She also received a Masters in special education from Providence College.
Mary Henry
Mary Henry is president of the Peabody Federation of Teachers (pictured with AFT Massachusetts President Beth Kontos).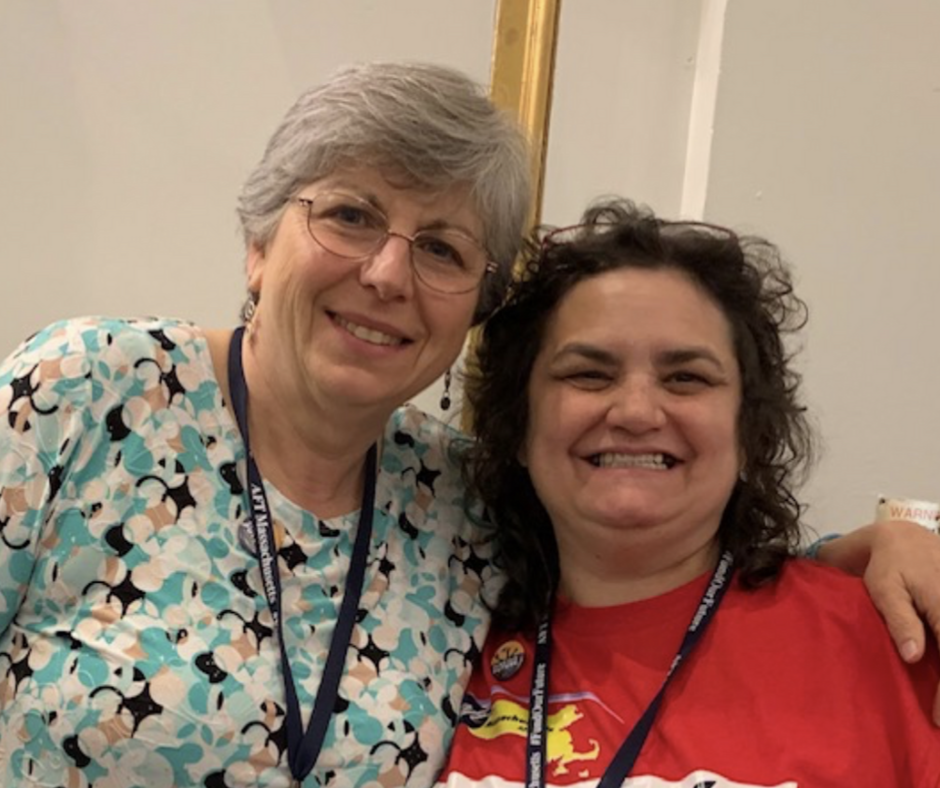 She has been a union member and educator in the Peabody Public Schools for 21 years, serving as building representative at-large, a member of the negotiating team, and a delegate to several Massachusetts and national AFT conventions, among other roles.  Mary continues to serve as a high school English teacher still teaching a full course load. 
As Peabody Federation of Teachers President, Mary's works to empower members to become invested and involved in the union through having a visible and identifiable union presence at all school committee meetings and at community events, having regular 10 minute meetings in the schools, rotating membership meetings among schools across the district to help members become more invested and involved, increasing activism for educational issues in our community and in the commonwealth, using social media more effectively, and having social events for members.
Mary graduated from Villanova University, with a BA in English. She also received a JD from Boston College Law School and a Masters in Teaching English from Salem State University.