Survey of Lowell Educators' Out-of-Pocket Spending Demonstrates Need for New State School Funding
A recent survey of Lowell educators shows that teachers and paraprofessionals are spending hundreds of dollars of their own money each year on classroom supplies for their students. In total, Lowell educators spent approximately $674,000 of their own money on classroom supplies last year, and raised hundreds of thousands of additional dollars from crowdsourcing platforms.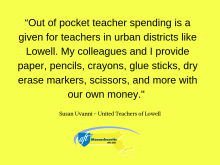 The United Teachers of Lowell (UTL) recently asked members to respond to a survey and share how much of their own money they had spent on classroom supplies in the last year. A total of 369 members — a combination of educators and paraprofessionals — responded, and they reported a total of $226,177.87 spent, for an average of $612.95 spent per educator. Given that Lowell has around 1100 educators, the UTL estimates that the total amount spent by teachers last year was approximately $674,245.
In addition, the survey asked about how much additional classroom funding educators had raised from crowdsourcing platforms like DonorsChoose or GoFundMe, which allow parents and community members to donate money to fundraising campaigns. The same 369 educators reported receiving $126,380.23 in crowdsource funding, in additional to their out-of-pocket spending, for an average of $342.49 received per education. If all 1,100 educators received similar amounts, the total raised for Lowell students from crowdsourcing platforms would be $376,739.
"This survey shows that dedicated Lowell educators are spending hundreds of dollars every year to give their students the basic school supplies they need, because our school funding system is broken from top to bottom. These aren't luxuries, they're basic materials like paper, pencils, and whiteboard markers that kids can't learn without," said Amy Bisson, Communications Director for the UTL. "Lowell educators spent $674,000 of their own money on classroom supplies last year to ensure that students in Lowell had what they needed. When you add in crowdsource funding, we're likely talking about around a million dollars provided by educators because our state leaders have not lived up to their promise to fund our schools."
Lowell educators say their out-of-pocket spending on classroom supplies is a symbol that demonstrates the massive need for new state school funding. The bipartisan Foundation Budget Review Commission found in 2015 that the state is underfunding public education by at least $1 billion a year. The Commission found that because state aid to local schools has failed to account for the actual costs of educating students, especially in Gateway Cities like Lowell, virtually everything else in our local school budgets has been cut: reasonable class sizes; art, music, recess, and physical education; adequate staffing of counselors, nurses, social workers, and paraprofessionals; adequate supplies of books and instructional materials; up-to-date computers and technology; school libraries and librarians.
"When the state's funding formula was first created by the 1993 Massachusetts Education Reform Act (MERA), it provided enough money for classroom supplies — but the money quickly began to dry up. I taught for the first 13 years of the MERA and with each passing year, classroom funding from the school's budget for each teacher decreased significantly," said Mickie Dumont, Director of Operations for the UTL. "In the first year, I was allotted close to $1,200 for my classroom supplies and expenses. By the 13th year, the year I retired, our classroom allotment had been reduced to $200 for the year. Each year, I made up the difference out of pocket. It was not unusual for me to spend up to $1,000 each year on class supplies. I have heard from today's teachers that they receive $100 per year from school budgets for supplies now. To quantify that, $100 divided by 25 students is about $4 per student for 180 days of school. Pretty discouraging, all around."
"Out of pocket tea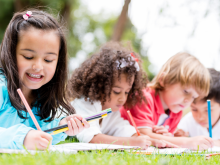 cher spending is a given for teachers in urban districts like Lowell. My colleagues and I provide paper, pencils, crayons, glue sticks, dry erase markers, scissors, and more with our own money. Even when purchased at the dollar store, these items add up," said Susan Uvanni, a 2nd grade teacher at the Morey Elementary School and Elementary Vice President of the UTL. "That's not the real issue though, is it? I can buy crayons and pencils; what I can't buy are the Science and Technology teachers who have been cut yet are vital to students' education in order to compete in a global economy. I can't buy the tutors that have been cut who provide services for ESL students. I can't buy social workers who have been cut who connect the homeless, traumatized or economically disadvantaged students to agencies which could lift them out of unfavorable circumstances."
The United Teachers of Lowell are part of the Fund Our Future campaign, a broad coalition that was formed to end the generation-long underfunding of local public schools and public colleges and universities in Massachusetts. The campaign is calling on the Legislature to pass legislation that would meet the recommendations of the Foundation Budget Review Commission by increasing state funding for preK-12 public schools by more than $1 billion a year. Advocates are calling for this major reinvestment in public education to happen this spring – in time for local communities to include the funding in the next academic year's budget.
"Inadequate funding shortchanges our children and we, the teachers, spend what we can, where we can, to enhance as best we can, students' educational access, experience, and success," said Kristen Schultz, an English Teacher at Lowell High School and High School Vice President of the UTL. "But make no mistake about it — the lack of funding reaches far beyond the wallets of teachers who fund classroom and student supply lists and is precisely what is measured in high stakes testing. In short, the Massachusetts MCAS will tell us two very important things about funding this year: which cities and towns have enough funding to meet the daily educational needs of their student populations; and which cities and towns have the funding to support and administer the updated MCAS as a computer based test."
"The results from the survey clearly indicate that our members actively and routinely engage in subsidizing their classrooms with their own out-of-pocket funds. We are aware of other anecdotal accounts in which custodians and cafeteria workers have also contributed financially to support individual students or classrooms in various ways," said UTL President Paul Georges. "In years past, these selfless personal contributions made by many of our members simply exemplify the innate generosity of our Lowell educators. At the same time, it's simply increased evidence that our schools and classrooms are clearly not being funded adequately, and it's past time that the recommendations of the Foundation Budget Review Commission be funded once and for all."
"Sure, I'll keep making my weekly trips to the dollar store to make sure my students have pencils and crayons, but that's a band-aid for the much bigger issue," said Uvanni. "Relying on a funding formula that has not and does not adequately fund students based on current costs is a terrible disservice to students. It is time for change."