American Federation of Teachers President Randi Weingarten visited high schools in Salem and Lynn to highlight the success of career and technical education (CTE) programs at the Massachusetts schools.
On June 9, AFT Massachusetts President Beth Kontos hosted the AFT's Career and Technical Education Committee and coordinated tours of Lynn Vocational Technical Institute and Salem High School.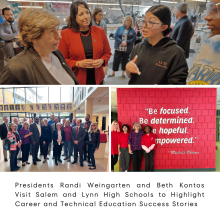 "We were delighted to host President Weingarten and educational leaders from across the county on the North Shore, and highlight the incredible work being done by CTE educators in Lynn and Salem," said AFT Massachusetts President Beth Kontos. "These schools are national leaders in high-quality career and technical education that engages students and prepares them for fulfilling and well-paid careers. It was an honor to showcase them as AFT advocates for stronger public schools in Massachusetts and across the nation."
The AFT's CTE committee is one of a number of sub-committees of the AFT's Executive Council, and acts as the union's sounding board for CTE policy analysis and recommendations, for guidance on legislation and advocacy, and for updates on high-quality CTE programs in our locals that the national office can highlight and replicate.
Lynn Vocational Technical Institute and Salem High School offer students a wide variety of CTE programs, including automotive technology, building and property maintenance, carpentry, culinary arts, programming and web design, electrical technology, medical assistance, and early education and care.
These programs are key components of a national model to strengthen public schools and help kids recover and thrive in the wake of the pandemic, outlined by AFT President Randi Weingarten in her recent speech, "In Defense of Public Education."
"Talk to any employer about the skills and knowledge they look for in a successful employee, be it a plumber, a nurse or a lawyer, and you're bound to hear similarities—employees who are creative, self-starters, critical-thinkers, problem-solvers; have empathy; and can build relationships," said Weingarten in the speech. "This type of learning provides every student with more options to develop those skills and to find their passion, their purpose and their pathway to good jobs and fulfilling careers."
Together with community schools, the revival of the teaching profession and deeper partnership with parents, Salem and Lynn's success with CTE showcases how hands-on, experiential learning can capture students' imaginations, provide them with paid work experience during their high school years and forge pathways to lasting, high-quality careers.
In Salem, Randi and Beth were joined by Salem Teachers Union President Ann Berman and Salem Mayor Dominick Pangallo. In Lynn, they were joined by  Lynn Teachers Union President Sheila O'Neil, Lieutenant Governor Kim Driscoll, Congressman Seth Moulton, and Lynn Mayor Jared Nicholson.