The American Federation of Teachers, AFT Massachusetts, the Salem Teachers Union, and the Peabody Federation of Teachers distributed thousands of free books to local students on Saturday, December 1, 2018 through a partnership with First Book.
On Friday, American Federation of Teachers Executive Vice President Mary Cathryn Ricker, AFT Massachusetts President Beth Kontos, Salem Teachers Union President Ann Berman, and Salem Public Schools Superintendent Margarita Ruiz were at Bates Elementary School in Salem to read the new book Carmela Full of Wishes by Matt de la Peña to first graders at the school, who also received a copy of the book to take home. During the visit, the union and school leaders highlighted the importance of reading and encouraged students to attend the next day's book distribution event.
Also that morning, school and union officials read to students and distributed books at South Memorial Elementary School and Carroll Elementary School in Peabody.
On Saturday, Peabody Veterans Memorial High School hosted a free book distribution day. Hundreds of students from Salem and Peabody showed up with empty backpacks and left with them full of books to read at home.
"We had a great day reading to the students in Peabody and Salem, and it was fantastic to see so many families go home with a backpack full of books," said AFT Massachusetts President Beth Kontos. "Our 6-year partnership with First Book has now brought more than half a million books to educators, students, and their families. Together, we're helping our students discover the joy of reading at home."
Click here to view the photos of the book distribution!
Click here to view a video of the book distribution!
"Our 45,000 books arrived here in Peabody on time despite several unexpected challenges including a road closure in Pennsylvania and a truck bed that was 18" too high for the PVMHS loading dock," said Peabody Federation of Teachers President Bruce Nelson. "After just a few minutes of puzzlement, our custodial staff put their heads together and found some old locker room doors to use as substitute ramps. Brilliant!"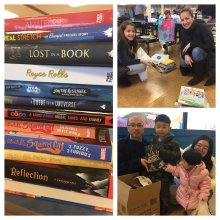 "Teachers from across our districts were thrilled to help select books for our students to take home and read," said Salem Teachers Union President Ann Berman. "The event was a huge success, and it felt great to be able to help so many kids and their families by giving them the gift of reading."
Since 1992, First Book has distributed more than 175 million books and educational resources to programs and schools serving children from low income families in more than 30 countries. First Book currently reaches an average of 3 million children every year and supports more than one in four of the estimated 1.3 million classrooms and programs serving children in need. With an additional 1,000 educators joining each week, First Book is the largest and fastest-growing network of educators in the United States exclusively serving kids in need.
The American Federation of Teachers and First Book have been working together for more than 6 years to support educators and the students, families and communities they serve.  Since the partnership began, it has brought more than 5 million books and other educational resources directly to classrooms, libraries, healthcare facilities, and other community places. In Massachusetts, AFT locals have now hosted 10 large scale distributions — in Boston, Lynn, Lowell, Springfield and now Peabody and Salem — bringing 500,000+ books to educators, students and families.