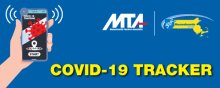 School employees and public librarians are doing what they always do: taking care of their students and communities. But no matter where you are in Massachusetts or what your district's reopening plan looks like, everyone deserves to feel safe at work.
This tracker is brought to you by the American Federation of Teachers Massachusetts (AFT Massachusetts) & Massachusetts Teachers Association.
Help us hold local and state leaders accountable. Report a COVID-19 case or unsafe working conditions in your school or district with our easy-to-use tool.