As COVID-19 rates persist and even increase in some Massachusetts communities, the American Federation of Teachers Massachusetts and the Boston Teachers Union will launch a multi-platform public awareness campaign this week underscoring their members' support for state and local investments in providing the safest possible return to in-person learning for Massachusetts students. 
Educators are asking the public to remain vigilant in the face of recent increases in COVID-19 cases and are asking state officials and school administrators to continue investing in steps that will make public education classrooms and spaces safer as students continue to return back to in-person learning in increasing numbers. 
"As we have consistently stated, educators want students back in schools," said Boston Teachers Union President Jessica Tang. "There are clear steps that can be taken to make a full return to classroom buildings as safe as possible. We're asking that the state simply take those steps in order to bring students back in the safest and most instructionally sound manner possible."
"Our students are our number one priority, always," echoed Beth Kontos, President of the American Federation of Teachers of Massachusetts. "Teacher unions are made up of teachers — many of whom are parents ourselves. We are advocating for the state and for all districts to embrace and invest in key safety measures like improving school building air quality, providing adequate PPE to educators and students, and taking other common sense steps to preserve the public health and to save lives."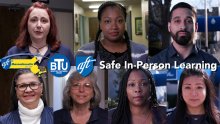 The initial public video message from the campaign can be viewed here:
https://SafeInPersonLearningMA.org.
That message will hit the airwaves this week on local national network affiliates, plus leading cable stations including CNN, MSNBC, ESPN, and more. The video will be broadly distributed across digital and social media channels including Facebook, Instagram, YouTube.
The video message also calls for improvements to the state's inequitable and widely-panned vaccine rollout program while underscoring the long-held position of the teachers unions that healthcare workers, seniors and other at-risk populations be prioritized for vaccination, followed by educators and other frontline workers. Equitable access to vaccinations for families of color disproportionately affected by the pandemic also remains a priority for educator unions.  
​​​​​​​