In a
letter
sent to state Health and Human Services Secretary Marylou Sudders today, Massachusetts' two statewide teachers unions, along with the Professional Fire Fighters of Massachusetts, the Massachusetts AFL-CIO, and other labor organizations, asked the state to support a pilot program of a rapid vaccination plan for school employees in 10 to 20 high-need school districts this month.
The Last Mile Vaccine Delivery Proposal, which is currently before the state Department of Public Health, was designed by Mascon Medical, the Professional Fire Fighters of Massachusetts, the Massachusetts Teachers Association (MTA), and AFT Massachusetts to facilitate the rapid vaccination of all school employees in the state in order to protect educators, students, their families and the communities they live in.
"Just as the state is moving forward with a plan to vaccinate public transit workers, we also need a plan to vaccinate all educators," reads the
letter.
"We are asking the state to set aside enough vaccine from the supply currently being stored in freezers to pilot our program in 10 to 20 high-need school districts at the same time the state is continuing to vaccinate people aged 65 through 74. As more vaccine becomes available, the program would be scaled up to administer shots to school staff across the state."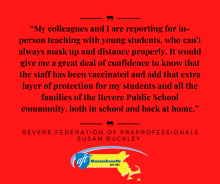 "My colleagues and I are reporting for in-person teaching with young students, who can't always mask up and distance properly," said
Susan Buckley, an instructional paraprofessional at the Beachmont School and AFT member in Revere
, one of the cities in the proposed pilot program. "It would give me a great deal of confidence to know that the staff has been vaccinated and add that extra layer of protection for my students and all the families of the Revere Public School community, both in school and back at home."
"The state has no plan in place to get the vaccine into the arms of all school employees, so we've united with the firefighters' union to create our own," said MTA President Merrie Najimy. "Unions are charged with protecting the health and safety of their members, which ultimately protects their communities. By streamlining an on site process for vaccinating school employees, this union-led plan will make our schools and communities safer. It's time to act."
The Last Mile Vaccine Delivery Proposal, modeled on a similar program developed by and for first responders during Phase 1 of the state's vaccine distribution plan, would help overcome ongoing vaccine distribution challenges by bringing the vaccine directly to local communities. In a recent test run in Quincy and Chelsea, Brewster Ambulance EMTs administered the vaccine to currently eligible seniors while local firefighters stood by to provide assistance should anyone experience an adverse effect. It went very smoothly.
"Many firefighters and EMTs have children and know firsthand how important it is for them to be safer when they are back in school," said Rich MacKinnon Jr., President of the Professional Fire Fighters of Massachusetts. "We know the benefits of vaccinating school employees locally and efficiently and are eager to put our experience to work with this plan to take care of those who care for our children."
Mascon Medical leaders, who have been in discussion with the Department of Public Health, would lead the process of contracting with the personnel needed, identifying the sites and working with municipal partners to make the program successful. EMTs and firefighters would administer the vaccines and provide medical care, if needed.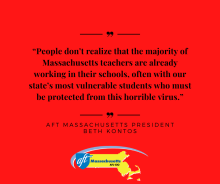 Massachusetts lags behind most states in the percentage of vaccine doses administered
and the share of the population already vaccinated.
More than half of all states have already begun vaccinating school staff
, and other states plan to start soon. These states are adhering closely to the current
CDC recommendation
that educators be vaccinated early, along with other frontline essential workers, such as firefighters, police officers and postal service employees. But right now, Massachusetts has no state-approved plan for when or how to vaccinate school employees.
"People don't realize that the majority of Massachusetts teachers are already working in their schools, often with our state's most vulnerable students who must be protected from this horrible virus," said Beth Kontos, President of AFT Massachusetts. "Vaccination will help protect our students, their families, and the communities that have been hit the hardest by the pandemic."