Setting the record straight on dangerous misinformation campaigns fueling skepticism and hesitance around the COVID-19 vaccines.
Dangerous misinformation campaigns are fueling skepticism and hesitance around the COVID-19 vaccines, a situation that both prevents achievement of herd immunity and increases the possibility that new variants will be deadly to even the vaccinated. The truth is that 99.5 percent of all COVID-19 hospitalizations and deaths happening now are among the unvaccinated. As vaccination numbers lag and COVID-19 infections surge in many communities, it is imperative that AFT members have the most accurate and up-to-date information about the vaccines.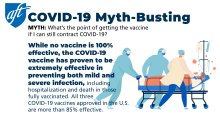 The "
COVID-10 Myth-busting Factsheet
" was composed by the AFT and is intended to set the record straight about some myths and misconceptions.
Background:
On July 9, the Centers for Disease Control and Prevention updated its guidance for COVID-19 prevention in K-12 schools, and on Aug. 2, the Department of Education released its companion "Return to School Roadmap" to support students, schools, educators and communities in preparing for the 2021-22 school year. As part of the launch of the Return to School Roadmap, the department released:
A guide for schools, families and communities on the Return to School Roadmap, reviewing the three "landmark" priorities, and elevating schools and districts that are addressing each in effective ways.
A guide for schools and districts outlining what schools can do to protect the health and safety of students, including increasing access to vaccinations and steps for implementing the CDC's recently updated K-12 school guidance.
A checklist that parents can use to prepare themselves and their children for a safe return to in-person learning this fall.