The AFT Black Caucus, Boston Chapter has been working tirelessly to support educators of color, while also working to support the communities these educators serve. Johnny McInnis is a music teacher, Boston Teachers Union Political Director, AFT Massachusetts Vice President and chapter president of the A. Phillip Randolph AFL CIO. McInnis said that the caucus works to support Black educators, noting that the caucus and its work has benefits that ripple outward from people of color. The caucus has been working to highlight not only the needs of educators of color in Boston, but also works to help shine a light on within the union to support educators of color.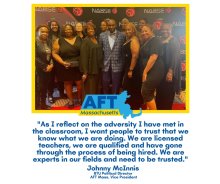 "It's a national caucus with AFT Boston that has been meeting and trying to develop ways to support educators of color," McInnis said. "We had our inaugural Kwanzaa celebration with a huge turnout at the Boston Teachers Union (BTU). We had vendors for the first time and that was a success also because we were able to sell and highlight local products from business owners of color." 
McInnis said the group provides an opportunity for people to collaborate monthly to determine what is needed not only for educators of color, but for all of education as a whole. 
"What we've done within the BTU is provide an opportunity for members to come together every month," he said. "There we review bylaws and see how we can help each other in the education field and support each other in our classroom careers and in the union as well."
The union is under the umbrella of the AFT National Black Caucus, and comes together through conventions and other means for fundraisers and events. They meet monthly, both nationally and locally, in order to get updates and to share ideas at the local level. 
"We've done a Paint Night in the past to develop a platform for future fundraising events. "These types of social activities, considering everyone is bogged down in schools, help keep pace with everything. We want to energize and motivate people in the classroom, as these sorts of activities help do that." 
The pandemic brought into focus many issues that educators of color already knew were there, but the pandemic has had an impact on the way the BTU builds relationships. McInnis said the pandemic has brought educators of color closer. 
"It brought us closer because of an era of racial awakening, which has always been there but has shown a spotlight on the district and how educators of color have been treated–whether that be through evaluation through the school or the hiring process," he said. "The evaluation process, supporting teachers through the school day; the information is eye opening as to what we have been going through." 
He said coming together to share information about what other educators are going through is important as well as how we can help each other through the rigors of educating students.
Educators of color have to work much harder when looking at the metrics used to evaluate them. 
"Black Educators  have to work much harder when you look at the numbers that receive poor evaluations," he said. "This also gets into the retention of Black educators and the support from the district. Are they being set up to fail by being targeted through subjective expectations, are they getting the same support as the non teachers of color?"
McInnis said the BTU is working to ensure that educators of color receive not only the same resources and timely supports as their colleagues, but the same decision making support that all educators need. 
"We're working together in schools, we receive the same resources as our colleagues but it's more on the decision making for support. What is needed is support for teaching and learning, actual support and help with strategies in the classroom," he said. "As I reflect on the adversity I have met in the classroom, I want people to trust that we know what we are doing. We are licensed teachers, we are qualified and  have gone through the process of being hired. We are experts in our fields and deserve to be trusted."
McInnis said the BTU is not only working for the benefit of Black educators, but that when educators of color are considered and their needs and challenges are addressed, those benefits ripple outward.
"It's not exclusive to members of color, so anyone can join our Black Caucus," he said. "It's inclusive to everyone, we want to pull in other AFTMA locals so they can participate as well, because we think they have something to bring to the room. There is a membership fee of forty dollars for active members and twenty dollars for retirees."
McInnis said it is important for all local education unions to have a black caucus. It provides and opportunity for voices to be heard and needs to be addressed. 
"An affinity group is an opportunity for their voices to be heard, we want to be active in campaigns in the union to make sure that we are participating whenever actions occur in our union," he said. "Not just participating, but getting involved as well." 
The BTU's Black Caucus participated in the National Association of Black Educators' annual conference in Maryland for four days in December. AFT supported our members who attended the conference celebrating its 50th anniversary. The event highlighted the innovators, change makers, and premier Black leaders in education across the country, Puerto Rico, and Canada. The conference offered a variety of workshops that centered around the following themes: 
Equity & Family Engagement 
Microaggressions/Macroaggressions 
Inclusion & Project Based Learning
Mental Health Services for educators & students 
Leadership for Superiendents (Women & Men)  
Policy & Advocacy 
Let the Little Light of Shine documentary (Chicago Public Schools) 
Educators of color recruitment & retention 
Think Tank "Teacher Shortage & Educators of Color"