On his 22nd birthday, Jim Lucia got married and moved to Billerica to begin his career in education, the decision being spurred by a mere $200 per year difference between schools who extended job offers. Lucia taught for 40 years, retiring in 2009, and in that timeframe served in various capacities advocating for his fellow educators. As the past President of the Billerica Federation of Teachers, Jim also served as the Vice President of AFT Massachusetts. Lucia is semi-retired from the union, joining the Massachusetts Retirees United nearly 20 years ago and serving as president the last four years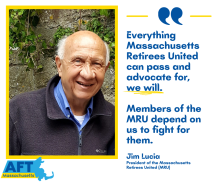 As with many educators, the pandemic highlighted a lot of what had been wrong with education for years, and Lucia said that those highlights extended to retirees as well. He saw what was impacting current educators through his son, who also pursued a career in education, but the lack of in-person communication was taking its toll on everyone, the MRU included. 
"At the time, when we were on Zoom calls with friends, it affected us to not be as up close and personal," he said. "My son had a very different situation as a teacher, and with a very gradual return. The MRU had its last board meeting before the shutdown. Then we moved to Zoom like so many, and we got the hang of it and that got easier with time. Finally, when we were able to meet in person again, we took all the precautions. We wanted to relieve as much anxiety as possible. For our group, being in person is not just important, its how we stay connected to each other and our community."
Working together is what the MRU does best. For example, they were integral to passing the maternity leave bill, fought to receive additional funds to their pensions, and worked to change the hours and money earned after teachers reach retirement, up to $15k per year with hours increasing from 960 to 1,200. The MRU is currently working to increase the benefits for elderly retirees who retired before 2004. In the wake of staggering inflation, retired educators are facing rising costs of basic necessities such as food, rent, gas and healthcare. "Everything we can pass and advocate for, we will. Members of the MRU depend on us to fight for them."
As inflation and cost of living have increased, the state's system for determining cost of living adjustments involves a base rate of just $13,000, a rate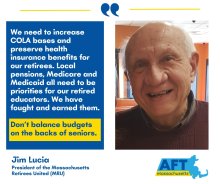 that has not been adjusted since 2011. MRU is advocating for the passing of House Docket 2901 and Senate Docket 220 which would ensure greater economic security for retired teachers by immediately increasing the COLA base to $18,000, and then gradually increase the base until it reaches the maximum social security benefit for an individual worker retiring at full retirement age. This legislation would also protect retirees from rising healthcare costs. 
"We want to bump them up to our current level. We want to increase the benefits of veterans who retired before July 24, 1996," Lucia said. "In my teaching career I worked for 45 years, working part time, and I paid my 100% into Social Security and my employer did as well. But I only get 50% of it today, and if my wife dies, I don't get any of her benefits."
Lucia said that the founder of MRU, Kathy Kelly, who served as past President of AFT Massachusetts, knew the political power of retirees. MRU's roughly 2500 members are spread across the country, and volunteer their time with no compensation. COLA has become their primary focus for retirees, amid other issues, and legislation to strengthen retiree benefits and health insurance is a goal for MRU. Lucia said that more cannot be put on the backs of seniors. 
"Don't put more on the backs of seniors than they need," he said. "We need to increase COLA bases and preserve health insurance benefits for our retirees. Local pensions, Medicare and Medicaid all need to be priorities for our retired educators. We have fought and earned them. Don't balance budgets on the backs of seniors."
Lucia said that for current educators who are approaching retirement or just retiring, it is important to be involved and stay active. "Be involved in whatever you can be involved in, stay active," he said. "You'll know when it's time to retire, don't force it, don't accelerate–you'll know. Find something to do. Donate, join the MRU, do whatever you want to do, just do something." 
Click here to learn more about the MRU and how to join the organization.