Every year AFT Massachusetts awards thousands of dollars in scholarships to eligible high school seniors who are dependents of AFT Massachusetts members. AFT Massachusetts President Beth Kontos and Secretary-Treasurer Brant Duncan are thrilled to announce the recipients of the union's 2020 Scholarship Awards.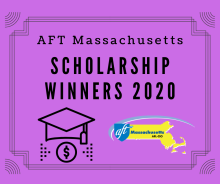 The awards, named in honor of former AFT leaders Kathy Kelley, Albert Shanker and Sandra Feldman, and for long-time AFT Massachusetts field representative Jay Porter, are awarded on the basis of a labor history exam administered by the Massachusetts AFL-CIO. The exam includes questions covering the history and structure of the labor movement in America, legislation affecting American workers, child labor laws, minimum wages, civil rights, safety and more, as well as a 500-word essay based on a current labor issue.
"Now more than ever, it's important for young people to understand the role of labor unions in our country's history," said AFT Massachusetts President Beth Kontos. "AFT Massachusetts is proud to offer these college scholarships to students who are part of our union family."
Here are this year's winners:
Kathleen A. Kelley Scholarship Award
Tyler Nolan - Chelmsford High School
Albert Shanker Scholarship Award
Matthew Lyons - Framingham High School
Kian McCabe - Saugus High School
Mary McCloskey - Littleton High School
Louisa Sullivan - Braintree High School
Aine Powers - Holliston High School
Sandra Feldman Scholarship Award
Riley Birchall - North Andover High School
Andrew Wallace - Bishop Fenwick High School
Jay Porter Scholarship Award
Kyle McGinnis - Foxboro High School
Congratulations to all the recipients of the 2020 Scholarship Awards!