As an AFT Massachusetts member, you know that we have more power when we join together through our union.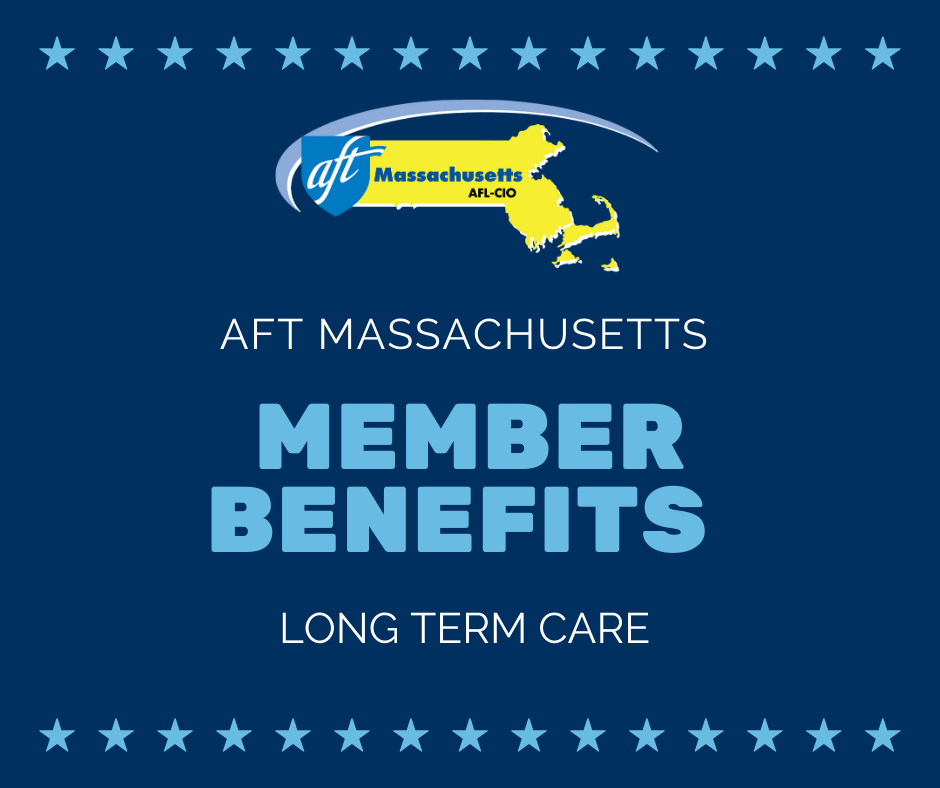 That collective power is how we win better salaries, benefits, and working conditions, but it's also how we can make a difference in every aspect of educators' lives. From engaging in political activity in the community, to developing our professional expertise in the classroom, to establishing benefits that go beyond the workplace, the AFT Massachusetts is a community of colleagues, and we're stronger when we join together.
Our benefits program brings you the collective purchasing power of AFT's 1,700,000 members and AFT Massachusetts' 23,000 members. With our union, you don't have to do it alone — on or off the job.
Long-Term Care Insurance [LTCi] is a vital part of financial planning as it is designed to protect your retirement income and your family's lifestyle. LTCi pays for the expenses associated with needing care for an extended period of time at home or even a stay in a long-term care facility.  
Since the cost of long-term care is generally not covered under a health or disability insurance contract, or under Medicare, the AFT Massachusetts has made this insurance benefit available to our membership.
The following advantages are available to AFT Massachusetts members:
Products available from multiple highly rated carriers.
Premium discounts are available to AFT MA members, spouses of members and eligible family members. There is even an additional 15%-30% discount when spouses or partners apply together.
Long-Term Care insurance can be tax deductible to certain corporations and individuals.
Some contracts even provide cash benefits for home care.
Unique program benefits that offer additional value are also available:
Unlimited benefit option
Limited premium payment options, including 10-pay and Single lump sum payment options
Full Return of Premium and Cash Surrender Value options
1035 exchanges from non-qualified life insurance and deferred annuity policies
Learning about the AFT Massachusetts LTCi Program is easy! Simply call 800.582.2889 or send an email to AFTMAltc@armltc.com.  Long-Term Care Specialists can meet you face to face OR virtually, online and over the phone!  Click here to learm more!